REGISTRATION NOW OPEN CLOSED
09:00
Registration
Edmund Burke Lecture Theatre
Room 1008, Arts Building, Trinity College Dublin (map)
09:30
Keynote Lecture
Chair
Mark Bell
Regius Professor of Law, and Head of the School of Law, Trinity College Dublin
Imelda Maher
Sutherland Professor of European Law, and Dean of Law, University College Dublin
& Ronan Riordan (University College Dublin)
The Supreme Court's Treatment of EU Law
10:30
Tea & coffee
11:00
Panel 1
Chair
Mary Finlay Geoghegan
Judge of the Supreme Court, 2017 to 2019
Noel McGrath
University College Dublin
ACC Loan Management v Rickard [2019] IESC 29 (09 May 2019)
Fiona de Londras
University of Birmingham
P v Minister for Justice and Equality [2019] IESC 47 (31 May 2019)
Des Ryan
Trinity College Dublin
Nano Nagle School v Daly [2019] IESC 63 (31 July 2019)
Áine Ryall
University College Cork
Data Centres, Masterplans and Environmental Assessment Obligations: Fitzpatrick v An Bord Pleanála [2018] IESC 60 (05 December 2018) and [2019] IESC 23 (11 April 2019)
12:30
Light Lunch
13:30
Panel 2
Chair
Iseult O'Malley
Judge of the Supreme Court
Liz Heffernan
Trinity College Dublin
Statutory Presumptions Affecting the Burden of Proof: Director of Public Prosecutions v Forsey [2018] IESC 55 (08 November 2018)
Mark Coen
University College Dublin
Withholding the Right to Silence: Sweeney v Ireland [2019] IESC 39 (28 May 2019)
David Prendergast
Trinity College Dublin
Limiting Consent in Criminal Law: Director of Public Prosecutions v Brown [2018] IESC 67 (21 December 2018)
14:45
Tea & coffee
15:00
Panel 3
Chair
Yvonne Scannell
Professor Emerita, School of Law, Trinity College Dublin;
Consultant in Environmental, Planning and Climate Change Law, Arthur Cox Solicitors
Fergus Ryan
Maynooth University
Decriminalisation Revisited: PP v Judges of the Circuit Court [2019] IESC 26 (30 April 2019)
Brian Murray SC
Law Library, Dublin
Kerins v McGuinness [2019] IESC 11 (27 February 2019)
O'Brien v Clerk of Dáil Éireann [2019] IESC 12 (05 March 2019)
Kerins v McGuinness [2019] IESC 42 (29 May 2019)




16:15
Ann Henry
Partner, Pinsent Masons, Dublin
Closing Remarks



All are welcome to attend; the fee (inclusive of materials, tea & coffee breaks, and light lunch) is €35.00, or €15:00 (concession for students, pensioners and the unwaged); and registration is essential (via here or here).
The ISCR reserves the right to make changes to the draft Schedule above.
5 CPD points will be available.




The conference will be held in the Edmund Burke Lecture Theatre, Room 1008, Arts Building, Trinity College Dublin (map, directions and public transport).
Unfortunately, visitor parking is not available in College. However, ParkRite and Q-Park have car parks near College.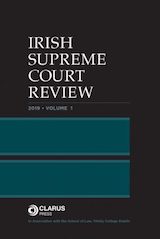 The Irish Supreme Court Review (ISCR), hosted by the School of Law, Trinity College Dublin, and sponsored by Pinsent Masons, is a forum for in-depth analysis of the functions and jurisprudence of the Supreme Court of Ireland. It consists of a conference in early October each year, a journal of the conference proceedings, and a comprehensive website. The papers at the conference and in the journal consider major themes in the work of the Court and its leading cases in the previous legal year, while the content on the website comments on the work of the Supreme Court throughout the year.
The proceedings of the 2018 conference were published as the first annual ISCR journal by Clarus Press on behalf of the School of Law, Trinity College Dublin; and copies will be available for purchase at the conference. The proceedings of this year's conference will be published by Clarus Press early next year.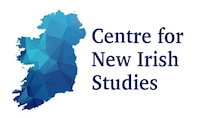 The ISCR conference is presented in association with Trinity College Dublin's Centre for New Irish Studies, which is part of the Making Ireland research theme hosted by the Trinity Long Room Hub Arts and Humanities Research Institute.
The Hub is dedicated to advancing TCD's rich tradition of research excellence in the Arts and Humanities, on an individual, collaborative and inter-disciplinary basis. Multiple Irelands have been fashioned through the ages; and the Making Ireland research theme explores this profoundly complex inheritance in its local and global manifestations.




Contact us via email or follow us on Twitter at #ISCR19 and @_ISCR.